"Seeing is believing…"
Thomas Fuller. (17th-century English clergyman)
As an agency owner, there are enormous benefits to be had from embracing data visualisation and almost no downsides. Although the actual data your agency presents is the same whether visualised or in an orthodox format, the way it's delivered can have a huge impact on how your reports are perceived. This is key when it comes to client reporting, as the way that reports are interpreted and assessed will often have a material longer term impact on whether a client wishes to continue their future working relationship with you.
Of course, reports are not the only factor that will influence your client's decision making process, but they are often the only documents that link your agency's output with the client's relative progression or performance in whichever digital marketing discipline you are working with them. Moreover, for other stakeholders who are outside of the day-to-day communications with your agency (C-suite for example), it's often the only representation they have of your agency, as you may never meet or even speak to them. And of course, senior stakeholders are, more often than not, the ultimate decision-makers who control the company's purse strings, so they must be totally confident that your services are generating a satisfactory return on their investment.
Thus, your client reports must be impactful, accessible to multiple stakeholders and above all, accurate. When combined, these three qualities will help you to foster a successful client/agency relationship.
So how can you achieve these three reporting goals? (impactfulness, accessibility and accuracy)
The short answer is by using data visualisation software. Data visualisation in agency reporting has many benefits as outlined below…
Our brains respond best to visualisation, not text or numbers: On the whole, humans are visual learners, we were never hardwired to read text and thus respond better to visual cues. If you think about it, it is said that 80% of communication is non-verbal, which underlines the importance of using visualisation. The same is true for your clients; would they rather read a dull spreadsheet full of numbers and text or would they rather see that data in charts and graphics? Reporting to your agency clients should not purely be about relaying statistical data; you should try and engage the recipient and capture their attention. This is best done using visualised reporting.
Visual data can be processed faster
In 2006, researchers at the University of Pennsylvania noted that "the human retina can transmit visual input at roughly 10 million bits per second, similar to an Ethernet connection." In addition to this claim, it is also true that visualisations and patterns can be recognised quickly by the human brain, much more so compared to complex statistical data. In practical terms, it is easy for a client or stakeholder to see if a graph is going up or down compared to calculating a trend via a list of numbers. This is especially useful when clients or stakeholders are more interested in the bigger picture and don't come from a digital marketing background.
Ascertain insights at a glance
Clients and senior stakeholders are often time-poor; your report may be one of dozens that get sent to them each week. As such, you may have a small window of opportunity in which to make a positive impact. Thus sending them a spreadsheet with just rows of data is almost self-defeating, particularly for creative activities such as digital PR. Instead by visualising your data, you will immediately make your report more engaging for the reasons outlined above. Sticking with digital PR reporting, sometimes you need to be realistic and concede that your report may not even be read in its entirety, so providing top-level trends or stand-out coverage may be the only insights a client or stakeholder may extract from your report.
Speed, accuracy & efficiency
Using software as opposed to a spreadsheet or another form of manual reporting is faster and eliminates the danger of providing inaccurate information. For those who run an agency, this is a win-win situation because making your team more efficient means you can ultimately get more done in a day and thus be more profitable. Your employees will need to spend less time checking that their tables are set up correctly and will no longer need to copy and paste data between different sheets, helping them to focus on the tasks that really matter. Moreover, you are also providing a more efficient means for your clients and stakeholders to assess your performance as they won't need to spend as much time interrogating your report as the data is visualised. This will make the examination of your report a less labour intensive compared with reams of text/data. As a result, your clients will be more likely to understand the data the first time around.
Actionable Insights
Data visualisation will empower you and your agency team to more easily highlight key performance indicators (KPIs) and actionable insights. Visual representations of data make it easier to identify areas of success or areas that need improvement. By highlighting these insights, agency owners can guide clients towards making informed decisions and optimising their digital marketing strategies. Data visualisation also makes it easier to compare how these KPIs have progressed and changed over time.
Increased Transparency and Trust
Transparency is crucial in client-agency relationships. Data visualisation allows agency owners to provide transparent reports that clearly showcase campaign performance. What could get lost or buried in a spreadsheet cannot hide in a visualised report. Of course, no one wants to report on underperformance, but concealing it, even subconsciously, is far worse. That said, reporting subpar results with the right tool doesn't have to be all bad news. Effective data visualisation and reporting allow you to illustrate why things haven't gone quite to plan and how you plan to remedy any unexpected dips in your campaign. It's far better to illustrate any unwelcome news clearly and coherently and then be able to explain your proposed remedial action. In summary, positive or negative data/results are nearly always best projected via visualisation.
Competitive Advantage
Embracing data visualisation could help to set your agency apart from competitors who rely solely on less engaging styles of reporting. Visuals have a strong impact on clients, capturing their attention and making a lasting impression. By delivering visually appealing and data-driven reports, agency owners can demonstrate their commitment to innovation and creativity.
Collaboration
Data visualisation can help facilitate collaborative discussions between your agency and your clients. Visual representations encourage active participation and will allow your clients to provide feedback, ask questions, and contribute to the two-way conversation on performance. This collaborative approach should help strengthen your overall client-agency partnership and help to dispel any notion of "us and them / agency vs client". Software also makes it much easier to share reports, for example, allowing for seamless distribution of a report throughout a company. Contrast this with forwarding on a spreadsheet (yawn).
Real-time Updates
Data visualisation software can also be updated in real-time whereas a spreadsheet cannot. Imagine if your team had secured an amazing piece of PR coverage, only to discover that someone had already emailed over the client a campaign report 15 minutes earlier. Reporting software would allow you to update your report with the new coverage that will be reflected on the client's dashboard view of their campaign activity (so no need to resend an updated report). Likewise, if a piece of coverage was lost for any reason, you could simply remove it from the software, ensuring the client's dashboard is fully up to date.
Security and Accountability
A spreadsheet on someone's desktop or even a shared drive is much more susceptible to being compromised than a secure software package. Spreadsheets can become corrupted, accidentally deleted, or changed without a log of who altered what and when. Contrast this with data visualisation reporting software which ensures only specific team members you nominate would be able to access the report. In terms of storage, your reports and data are safely secured in the cloud.
Build Better Case Studies
One of the most effective ways to attract new clients is to illustrate your past successes via client case studies. However, as with client reporting, how the data is presented will influence how impactful and engaging the case studies are. This is where data visualisation software comes in because you can project your previous client successes in an engaging and easy-to-digest format, allowing recipients to recognise your agency pedigree in just a few seconds by viewing the online report.
In conclusion, embracing data visualisation for client reports offers digital agency owners a multitude of benefits as outlined above. However, of all the benefits discussed, the most important for the future of your agency is of course that you retain your current client base and continue to attract new clients. And whilst overall performance is what you'll ultimately be judged on by your clients, the way you present and report your monthly output to them is also a key part of helping to retain them.
About the Author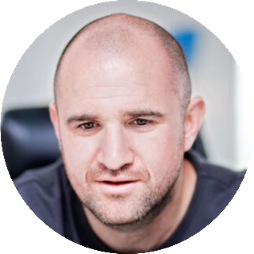 Gareth is the founder of Coveragely.com which launched in 2023 and aims to help businesses of all sizes streamline their PR, Marketing and SEO reporting. Offering a user-friendly platform, Coveragely aims to help customers create and share visually engaging reports to showcase the success of their digital PR campaigns. At its core, the company is defined by innovation and quality, constantly pushing the boundaries of PR reporting with creative thinking and leading technology.